When traveling with valuable gear, such as cameras, jewelry, and prescription meds, it's important to take extra precautions to ensure the safety of your belongings. Protecting your belongings is crucial to maintaining their value and functionality, whether you're a tourist who enjoys taking photos as their travels progress, a diabetic who relies on insulin that needs to be kept cold, or someone who wants to show off different diamond bracelets when dining. We will discuss the best ways to travel with your treasures. We'll explore some of the best alternatives available today.
Fabric Camera Bags
Investing in an inexpensive camera bag is one of the best ways to protect cameras and other small items you'd rather not advertise. These bags are often used to carry cameras that are not worth stealing. Many bags selling for less than $39 on Amazon from anonymous Chinese vendors are durable, water-resistant, and padded to protect against scratches, dings, and rain. Look for the ones with four or five stars from hundreds of buyers. Don't hesitate to return them if they are flimsy, poorly manufactured, or have cheap zippers.
By buying one slightly oversized for your camera (if you have one), you can carry jewelry pieces in small pouches; insulin in a frozen gel pack, or pills in an Amazon Pillpak metered out in daily doses. This will provide more security than in your purse or checked luggage. 
Avoid placing a soft camera bag in the overhead or leaving it exposed in your hotel room, unless you have locked the valuables out of sight. Soft camera bags usually can't be locked securely and can be opened with a knife or scissors in a few seconds. The smart way to carry them is inside a locked carry-on bag with spinner wheels. While the camera bag will take up most of the room, there still should be sufficient space for a toiletry kit, tickets, and a change of clothes. Most airlines permit a carry-on to be 22"x14"x9". That means that a camera bag that's no more than 12" long and 7" deep should fit easily inside.
Hard Cases
Another option for protecting valuables is a hard case, such as those made by Pelican. These cases are built to withstand the rigors of travel. Many are waterproof and can withstand drops and spills. They are ideal for photographers and those carrying medical devices who need to safely transport them on planes, or rafts. They are also great for storing your gear if equipped with sturdy padlocks when they are not checked in by TSA.
The problem is that they are heavy, scream "valuable property" to all who see them, and many cannot fit inside your rollaway spinner. They are also too awkward to schlep around town; and because they are often used to transport firearms, they may attract unwelcome attention from security personnel, police, and thieves. They are sturdy enough to be shipped in baggage compartments using the TSA locks and then padlocked in your room. Since most use foam cubes or padded separators to cushion the contents, they are more flexible than camera cases for carrying various valuable items.
Backpacks
For those who prefer a more versatile option, a fabric camera backpack, such as those made by ThinkTank, can be a good choice. These backpacks are designed to be comfortable to wear and provide easy access to your gear. They also have multiple compartments that can store other valuable items, such as jewelry and meds.
I recommend ones that are small enough to be locked inside a carry-on since they don't have wheels, and – unless you're under 30 – a large one announces to everyone that a tourist is approaching if you're walking around town in 95-degree heat.
Their advantage is that they store lots of "stuff," free up both of your hands and can be used with padded separators that protect their contents. However, unlike hard cases, they can be opened in seconds if placed in an overhead compartment or a hotel room. Most are difficult to access when they are on your back and get stuff in and out quickly.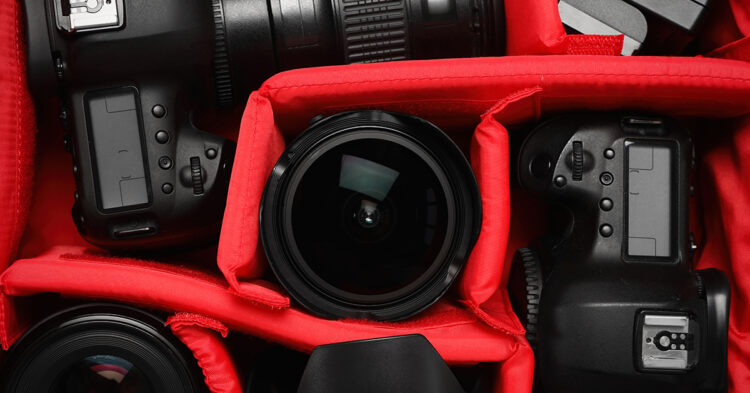 Peak Design Camera Cubes
Peak Design Camera Cubes are another option for those who prefer a safer and more flexible carry solution. These "cubes" (they are really 6.5-inch-deep rectangular fabric boxes) are perfect for storing your camera gear or any other small valuables. They are durable, water-resistant, padded, and have flexible partitions that can quickly be changed to keep possessions organized and easily accessible through zippers on three surfaces of the box.
The Camera Cubes are part of a modular system and can easily be placed inside a carry-on or fabric backpack to keep them out of sight or out of reach. The Medium Camera Cube (12 inches square) can be placed inside a hard carry-on with TSA combination locks. This is the closest you can come (presently) to providing an impregnable system for keeping your valuables safe in an airline overhead rack or decent hotel.
If you're carrying several lenses or camera bodies, you can also fill a small soft camera bag with your socks and underwear and carry it in your larger suitcase in baggage. Then, when you want to take pictures, you can transfer a camera and one-or-two lenses to the small, inconspicuous camera bag. You can lock the Medium Camera Cube inside the hard carry-on to keep the contents secure when you're out of the room.
Other Tips
When traveling with valuable gear, there are a few rules of the road that you should always keep in mind. One of the most important to avoid is shipping expensive items, or those that you need, in the baggage compartments of planes or trains. Rough handling or thefts can ruin a vacation. Also, avoid camera vests that are too flimsy to provide enough protection for your gear.
Consider buying Valuable Personal Property insurance. Some insurance companies, like USAA, offer coverage for personal property, including cameras, jewelry, and other valuable items—provided that the camera gear is not used professionally. Another essential item for traveling with valuable gear is Apple Air Tags. These small tags can be hidden inside your camera bag and carry-on to allow you to track its location, if it gets lost or stolen.