What's a cruise line to do when it has a few empty suites lying around? Like many others, Princess is trying out a new program that offers them to the highest bidder. Launching first on September 6 on five ships in North America, the new Princess Upgrade program allows guests to bid on a higher-end stateroom than the one they booked, including oceanview, balcony, deluxe balcony, mini-suites and full suites.
It will first be available on Caribbean Princess, Discovery Princess, Enchanted Princess, Regal Princess and Ruby Princess, and then expanded to the rest of the fleet by the end of October. Once full payment is made, guests will be invited to submit a bid, which they can change or cancel at any time until it is accepted. No minimum bid is required—but once your bid is accepted, your credit card will immediately be charged (so you have to be sure you want to do it when you bid).
Bids are based on two guests; third and fourth guests in a room receive the upgrade at no additional cost.
There are three requirements for bidding:
You must be at least 21 years old.
The booking must be paid in full.
The voyage must be at least five days within final payment.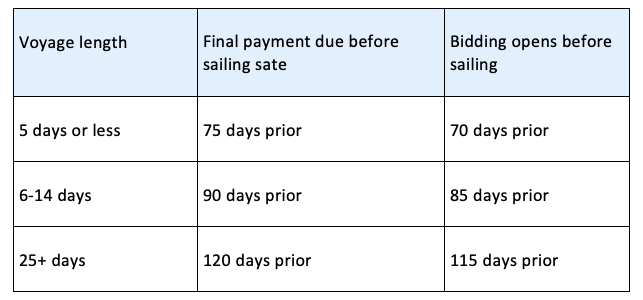 The program sounds like a win-win for all concerned. Customers asked for it: "Upgrading is a popular request from our guests, and we're pleased to deliver a process that lets them improve their stateroom category by making an offer that fits their budget and lifestyle," said Princess president John Padgett.
 Personally, because I travel so often, I always book a balcony room, and I've always been content. But a couple of months ago, my husband and I scored an upgrade on our bid on Norwegian's Pride of America to a Penthouse Suite with a butler for $1,300 more. When we sailed again last week and checked into our usual balcony room, we just looked at each other and said, "Wait, where's the bathtub and the butler?"
The upgrade will not work for those traveling in a group that wants to be together.