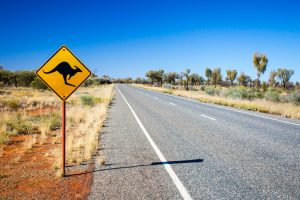 Australia shows up on more people's bucket lists than most other destinations and for good reason.  This continent-nation offers an amazingly wide mixture of landscapes, wildlife, and adventure, providing a veritable palate of opportunities for anyone wishing to enjoy an exhilarating travel experience in ever-changing locales: there is no single "Australian itinerary." With that said, and knowing Australia has so much to offer, here are my five top reasons to visit Australia.
The variety of beaches. Australia's beaches have something to offer everyone. For those who wish to admire the natural wonders of Australia, the Twelve Apostles in Victoria, an awe-inspiring natural formation of limestone stacks, is a popular destination for natural landmark enthusiasts. On the other hand, for those who want to take a siesta on a serene, palm tree-studded beach, Australia has a large variety of pristine, tranquil beaches, such as those you will find in Queensland. Australia also offers secluded tropical paradises, such as Florence and Radical Bays on Magnetic Island. Untouched by infrastructure, you will find yourself completely immersed in nature on the Island. Fraser Island, just north of Queensland, is famous for its sand highway. The highway stretches out to approximately seventy-five miles of breathtaking beach. It is the perfect place for a beachside road trip, stopping intermittently to take in the serene beaches and cool wildlife, including the last of Australia's wild dingoes. The ideal plan is to rent a 4X4, throw a tent on top, and cruise along the highway, stopping when you please for a swim. There is nothing more iconic of Australian adventure!
Australian Wildlife. Much is made of the wide variety of wildlife found only in Australia – think kangaroos. Evolution took some most interesting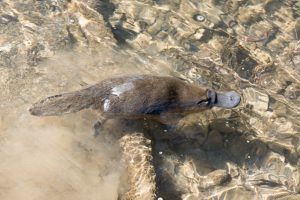 detours on this island continent. Australia is home to koalas, a variety of dolphins, endangered dingoes, the Tasmanian devil and, of course, giant whale sharks and great white sharks! There are two egg-laying mammals, the platypus, and the echidna. Only the most fortunate will see a gliding possum (I kid you not, look it up). On the "do not touch" list are, of course, some poisonous snakes and spiders, which are not as dangerous as their reputation would have you believe and are easily avoided by those not wishing for a close-up encounter. Then there are the crocodiles, which command everyone's respect, and a safe distance, but you can take an expert-led crocodile cruise on the Adelaide River.
From the deserts to the tropical forests, you will see a wide array of landscapes. Australia has some of the most wondrous landscapes ranging from dry deserts to lush tropical forests. For example, you can visit the vast desert of the Australian Outback. The Outback is a symbol of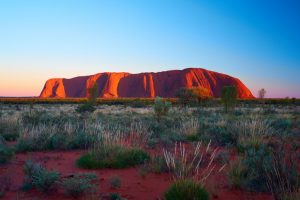 Australia's identity is unlike anything else in the world. With its bright red sand, white dunes, crystal waterfalls, and ancient cave drawings, you'll find yourself immersed in a real life watercolor. The iconic Uluru or "Ayers Rock" is a sandstone formation in the Northern Territory near Alice Springs. Sacred to the Aboriginal people of the region, Uluru takes on a rich, red hue at dusk. On the other end of the spectrum, Australia is also home to lush tropical forests. In fact, there are several categories of forests to choose from, including rainforests and native eucalypts. Australia also has a number of "pink lakes" including the world-famous Lake Hillier on Middle Island. The water in Lake Hillier, a saline lake, is permanently pink even when you take the water out of the lake. The water is said to be pink because of the Dunaliella salina growth nearby. You can take a helicopter tour and witness the pink lake that resembles a bubble gum blob from directly above
Australia can cover your snow skiing, surfing, and scuba needs. Just north of Melbourne, you'll find white powdery slopes to ski on in Mt.Buller,  a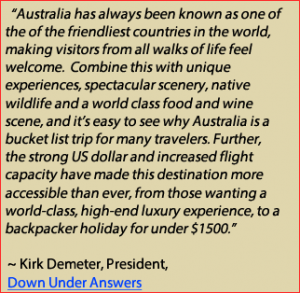 popular day-trip destination, especially for people residing in Melbourne. Because Mt. Buller is only three hours from Melbourne, you could spend the day in Mt. Buller skiing and be back in Melbourne in time for dinner. The following day, you can go surfing on some of Australia's best surf beaches. Only in Australia (with the possible exception of Hawaii) can you go snow skiing one day and then surfing the next. If you travel farther up the coast, you can experience a once-in-a-lifetime scuba dive amongst the beautiful and famous Great Barrier Reef. The Great Barrier Reef is the largest living organism on the Earth and is home to countless species of colorful fish, turtles, dolphins, sharks, and other sea life.
Amazing Wine Tours. Australia is famous for its wine. In fact, Australia is the fourth largest exporter of wine in the world. The best place to take a wine tour in Australia is in the Clare Valley in South Australia. There, you can take the Reisling Trail tour and enjoy endless samples of delightful Australian wine. At the close of the trail tour, you will find yourself surrounded by beautiful and historic stone cottages of Australia, which have been unsullied by modernity. There, you can tuck yourself into a cozy little local restaurant and unwind to some traditional Australian cuisine. I'll save the incredible list of Australian vineyards for another article, but suffice it to say the wine regions of Australia are enough reason to visit all by themselves.
OK, I'll give you a 6th reason to visit: the people of Australia. There are amazing historical resonances with North Americans, but the people of Australia are friendly and welcoming without equal.
Whether you are looking for a relaxed, beach bumming, wine sipping vacation, or if you are an adrenaline junkie seeking adventure, Australia has it on the menu. With its unique and varying landscape, exotic wildlife, and zest for fun, Australia leaves you hungry for more of this stunning destination.
Getting there: Long haul and intense travel destinations like Australia mean you will never appreciate a good travel agent like you will for an Outback adventure.